Many of you reading this post are likely already familiar with Click-Track-Profit (CTP) and the "CTP Teams" tournaments happening there. Have the CTP games been helpful to you in building your business?
[insert_php] include('ptc-blurb-inc.html'); [/insert_php]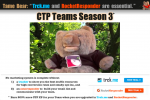 I have used the CTP games to promote two services that have been essential to the success of my Paid-To-Click project. They are:
Trck.me — Excellent tool for tracking hits and conversions, and (until recently) the best tool for comparing ALL Sources of advertising traffic.
RocketResponder — The "really-easy-to-use" autoresponder for sending scheduled messages to my email list.
(Click that thumbnail image to see my Tame Bear video for these two essential online marketing tools.)
WELCOME TO SEASON 8 OF THE CTP GAMES!
My view is probably anti-game, and may not be very popular…

I do not join Traffic Exchanges (TEs) just to be able to qualify and participate in the CTP games. I do not join every TE that advertises at CTP. Consequently there are many (most) days I am not able to qualify at all because I am not already a member of this or that TE and don't want to join simply to qualify. I do most of my traffic surfing at quality sites that are not participating (advertising) in the CTP games. Why? Because they are demonstrably BETTER places for me to get leads and conversions from my own advertising.
Teams are good, but I do think the emphasis on competition itself has become a distraction from the real purpose of Traffic Exchanges — to help us advertise, build businesses and make money.
COMPARING ALL TRAFFIC RESOURCES
How do I know which TEs are provably BETTER places to advertise? Because I track everything. I compare how ALL my advertising is performing across ALL the Traffic Resources (not just TEs), and I focus on the ones with the best conversion rates. None of these traffic/conversion sites are advertising in the CTP games. Some of them don't do CTP badges either.
I have to wonder if the "Sources" page in Trck.me was removed so we can no longer make those kinds of QUALITY comparisons. (This is now a ripe opportunity for other tracker services that do allow these types of traffic resource comparisons.)
ARE THE CTP GAMES HELPING YOUR BUSINESS?
It seems clear enough that the games help TE owners get more members. Do they get and retain membership upgrades sufficient to keep growing their businesses? If so, then the games serve a useful purpose.
But for the vast majority of us who are not TE owners and who surf to build our own non-TE businesses by promoting tools, training, products, and services, how effective have the CTP games been in helping us earn more money? Are these games helping to take our businesses to the next level?