Wow – all I can say is wow. What a fantastic review for "Oceans of Light: A Users Guide to the Multiverse" over at the iTunes Bookstore.
"A thoroughly good read … Lucky for us he's also a terrific writer!"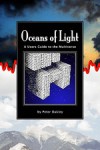 It is especially heartwarming to know of the personal impact this book has had on a reader. It is the "epiphany" I have been living for several years now, and it keeps unfolding into more wonder and awe as the days go by.
"Ride the waves people!" ~Karen Kaufman