IT'S A FEW DAYS PAST HALLOWEEN here at Tame Bear Central and by now everyone should be out of costume, back to work and doing everything to shake off a bad sugar jones. But there's one lone zombie out there in the woods with enough juice flowing in it's veins to stay upright and keep walking.
ZOMBIE IN THE WOODS
This zombie has been all but dead for a month or more.
My last cashout was $10.12 back on July 16, 2014, and my attempts since then to make further withdrawals have not met with success. During that time I submitted an ad page for review, thinking I could spend the earnings directly on advertising. But my ad went unreviewed for days, and then weeks. I opened a ticket about it, and got no response. I submitted another ad, still no response.
Then I thought maybe if I move earnings to my purchase account and buy credits, then my ad would be approved. (Surely I'm not the only one who thought of this?) So now I've got $13 locked up in credits I can't use; and another $11 in earnings that can't find a way out.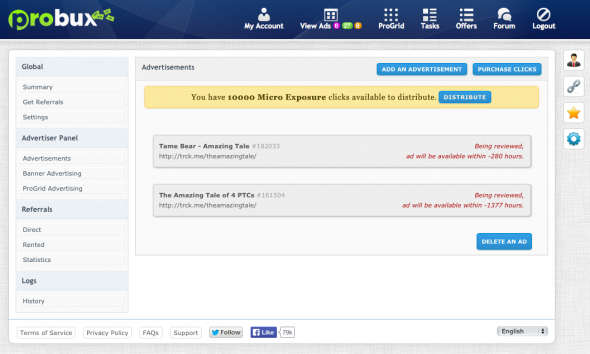 I sent one more support ticket just a week ago, hoping to shake some life out of this zombie. Nope, this one's among the walking dead.
ProBux is the zombie I'm talking about.
When was your last cashout at ProBux? Are you still earning? I appear to be gaining about 20¢ a day just by checking in and clicking on a few ads. But with no way to get money out, and no way to at least spend what I've earned, the site is just as well dead.
Here's what we saw leading up this to this conclusion:
Several months of cashflow issues – occasionally able to cashout during certain specified times throughout the day.
Front page messages from the owner – about how things would be improving, following server upgrades.
More elaborate messages about a renewed cashout plan – with a rollout first to Payza, then to PayPal.
The Forum down – for unspecified repairs a few days later. Has not been back up since then.
The site completely offline – for several days. (Did the business just change hands?)
Then back up – but to all appearances a mere zombie of its former self.
THE REPLACEMENTS
ProBux has been one of the "Core 4" PTCs in my campaign since I began this amazing journey back in August 2013. These are my flagship PTCs, the ones I expect to be at the heart of my solid ever-gaining "PTC Portfolio." Now I must choose a replacement for ProBux.
Several PTCs I began working with along the way appear to fit the profile. They are not fast earners, but they are consisently reliable in payment. They offer an option to rent or buy referrals. They offer advertising at reasonable rates for the volume of traffic, and conversion is average or above. They all have years of experience in the business.
ScarletClicks – Operating for 7 years.
WordLinx – Operating for 11 years.

Jill's Click Corner – Operating for 8 years.
Keep an eye on my advertising over the next several days to see which one of these I finally go with. And if you want to experience the same amazing journey with me, click and join each of these three top performing PTCs today.
I welcome your comments. Which of these do you think deserves to replace ProBux? Do you have other recommendations? Will you keep clicking at ProBux? How do you get past this and move on?
Tags: advertising, crash & burn, earnings, ProBux, PTCs, zombie