NOTE: Be sure to read the updates to this story in the Comments section below.
When you want more traffic to your blog, mutual traffic exchange EasyHits4U.com is an easy choice. A mutual traffic exchange is a great way to get lots of new visitors to your site fast, based on the simple premise "I look at your web site, you look at mine." EasyHits4U.com, established 12 years ago, has continued to deliver on that promise and is now closing in on a record 1,000,000 members.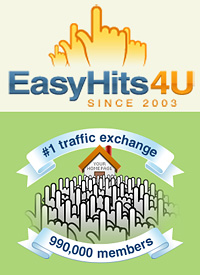 Free membership with 1-to-1 visit ratio.
Earn cash while you surf.
Earn credits from your referrals.
Upgrade to earn credits from referrals on 6 levels.
For every site you visit, you will receive one visitor back to your link. There's no limit to free visits you can receive per day — 10, 100, or even 1000. In addition to this free promotional service you'll also receive:
3¢ for every 100 pages viewed.
10¢ for every person you refer
40% from purchases made by your 1st referrals.
REFERRALS – BUILD VISITS AND EARNINGS
Yes you can earn real money at EasyHits4U.com. After using this top traffic exchange for several years, I am getting paid to use it — $3.00 or more every month. I use it every day, clicking and viewing just 100 web pages per day. That takes about 25 minutes; something I can easily do on "coffee break" time. And I'm getting lots of new visitors to my web site every day. Here is what my referral map looks like now: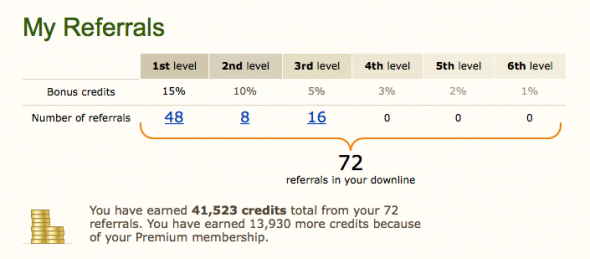 Wow! — In addition to my own clicks (about 100 per day) I have received 41,523 credits from referrals. That's 41,523 more visitors to my web site! Start clicking today at EasyHits4U.com, take 25 minutes a day to surf 100 clicks (you can do it while surfing Facebook and YouTube) and watch it boost your web site traffic. Join EasyHits4U.com it's "the easy one."
COMMENTS
What's your favorite Traffic Exchange? Or do you prefer Safelists? Or Paid-to-Click? Add your comments, insights, questions and ideas below. Thanks for being part of the Tame Bear community here on Tame Bear Weblog.
Tags: earnings, traffic exchange, your web site