An article in the April/May 2013 issue of AARP Magazine (yes, I am old enough to be a card carrying member of AARP) talks about "Superfoods that Power You Up" and why they contribute to health and slow the processes of aging.
Here is a list of the "longevity" foods: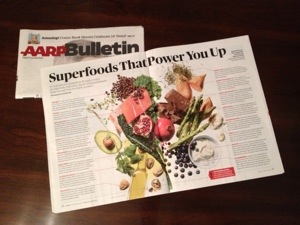 Coffee
Thyme
Wild Salmon
Kale
Avocados
Basil/Mint
Olives/Olive Oil
Walnuts
Green Tea
Sweet Potatoes
Dark Chocolate
Asparagus
Pomegranates
Garlic
Yogurt
Blueberries
Turns out I eat nearly all of these foods! That must be why I'm so good lookin'. And about half a dozen of these are growing in my own garden! Did you eat your superfoods today?