I've been traveling a lot more this past year, and the Amtrak is my preferred mode of travel. Especially now with WiFi on the train! Treesh and I are in the process of moving to Albuquerque, New Mexico and we've been going back and forth between our home in Goshen, Indiana and our new condo in downtown Albuquerque. The new digs are just a short walk from the Amtrak train station, which serves the "Southwest Chief" route between Los Angeles and Chicago.
SKIP THE PLANE, TAKE THE TRAIN
It always suprises people to learn that I have not flown in a plane since 1998. My work as a "freelance" webmaster and web site designer does not entail a lot of travel. It's not that I don't like flying, but I really enjoy the amenities of Amtrak train travel.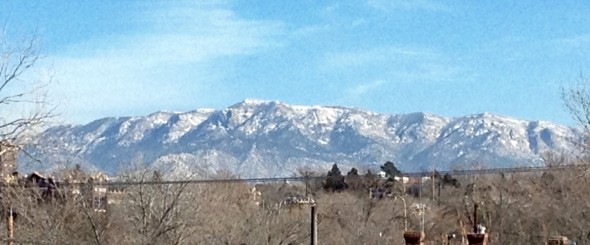 The freedom to walk about the train, the spectactular views as the countryside rolls by, the excellent meals and the enjoyable accomodations. No complicated security to pass through, two carry-on bags of decent size, and free wifi on the train — more about that in a moment. Treesh and I have taken our bikes on the train. It costs just $15 extra baggage fee per bike, plus $10 for a box to put it in. And we've taken the train to go skiing and snowshoeing in the wintertime, staying at the Izaak Walton Inn at the edge of Glacier National Park in Montana.
SLEEPER CAR PERKS
We usually get a "roomette" sleeper, which has two spacious seats and a wide window view. In the evening, our car attendant folds out the beds, lower and upper (Treesh always wants the upper bunk) with real sheets, blankets and pillows. I find the gentle rocking motion of the train makes for a truly sweet night's sleep. Meals are included when you book a sleeper, and you eat well! I hear the steaks are fabulous, and for vegetarians (Treesha and me) there are veggie entree options for every meal.
When I was younger, I would travel "coach," but even in coach the accomodations are so roomy, plenty of legroom if you want to stow a bag within reach, with seats that recline and foot rests to extend the seat for comfortable sleeping.
Chicago is Amtrak's midwest hub, and I really enjoy the Metropolitan Lounge there, another perk for sleeper car travellers. I can always use the wifi in the lounge, to catch up on news, Facebook, email, and monitoring my client's web sites and the Oakley Studio server. Often I have a three-hour layover in Chicago, and the Metropolitan is a cozy place to get internet and get some work done.
WIFI ON THE TRAIN!
This latest trip, returning from Albuquerque to northern Indiana, I discovered the latest addition to these services — wifi on the train! Each sleeper car has it's own access point, with service provided by Verizon. Because the internet connection is coming from cell towers, sometimes the service is intermittent or spotty. I've found that it works better when the train is going slow; perhaps because I can download entire web pages without a hand-off between towers. Today I worked online for several hours, enjoying the views out the window whever pages were a little slow to load.
In the past two years I have been working to build a new revenue stream for my business in Paid-To-Click advertising, so I am recruiting downlines in a "portfolio" of PTC sites. In order to earn from my referrals, I need to log in every day and surf and view a minimum number of pages at each site. Before this trip, those would be dead days, when I earn nothing because I was on the train with no internet access. But not any more. Now with wifi on the train I can still earn even while traveling, and complete half my daily "clicks" before the train pulls in to Union Station in Chicago.
One more thing about this particular trip… it cost me nothing! Yes, this trip is free. You get free trips when you join the Amtrak Rewards program and earn points. There are lots of ways to earn trip points. You get points for each trip you book. More points for using an Amtrak MasterCard, double points for certain low-travel periods throughout the year. In the past year and a half, I have earned enough points (15,000) to be able to travel free this time, with sleeper car accommodations. Nice.
Coming into Naperville now — gotta pack up my things and get ready to go. It's just another half hour before I'm there.
DECOMPRESSION
The thing I love the most about travel by Amtrak train is the time it takes to go from here to there, and back again. It is faster than a car or bus, slower than a plane, and it is so relaxing I look forward to each trip.
Between "vacation time" and "ordinary time" is "decompression time," time to think, to reflect, to plan. Time to listen to a story or read a good book. Time to visit with other travellers over a leisurely meal. Time to sit for an hour and watch the sunset. In the daytime, from the observation car, I've seen bald eagles, elk, antelope, wild turkeys. Some I've met have also seen bears and bison. Some of the most pristine scenic vistas are to be seen and enjoyed through the floor-to-ceiling windows of the observation car, as the world rolls by.