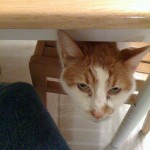 I see a little Macallan in you.
A certain playfulness and charm, a bemused puzzlement, a need to stretch and shy away, a mix of sugar and salt. This is Macallan I see in you.
Where you are orange, I am white.
Where you are looking down, I am looking up.
When the back door opens we go out.
This is the Macallan I see in you.
In your best days you were the biggest cat; on my lap you stretched from hip to knee. You're still that big cat in me. And I see that big cat in you.
Fearful of the ceiling fan, was it a danger in the sky? We made up stories of your kittenhood — the Macallan swept up in a hawk's talons. It explained the fright… to our satisfaction. As often as we pull the chain on that ceiling fan, do we remember Macallan as he was, and as he is now — in you and in me.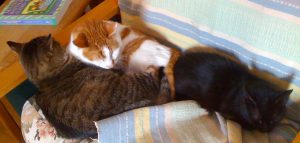 Macallan was found, so the story goes, in the middle of the highway on Vashon Island. Still a kitten when we brought you home, quarantined you in the bathroom along with Duncan, the Hospice Case, until your fleas were gone and Camille got to know you, batting paws under the bathroom door.
I see a lot of them both in you.
Do you remember playing with the paper bag on the kitchen floor? And becoming scared and running with the bag still over your head and crashing into the wall?
Do you remember how you made us laugh?
When you turned your head a certain way, it was as though you were trying more than ever to figure us out. An unspoken question, hanging in the air.
When you turned your head another way, with light from the window falling across your golden eyes, I saw my mother in you, and was glad you could bring her to my memory in this way.
Macallan, existing everywhere and in all of us, stepped out of possibility and into physical being, in a gentle breathing life we could touch and see and love.
From kittenhood to all grown, from Washington to Indiana, from Casa d'Oro to Mama House, from Gretel (frenemy) to Whidbey (cuddle buddy) we have all known your sweetness and can touch you in countless memories.
I see all of that in you, my friend.
When I look at you, it's all there, all that was Macallan, all the inquisitive and fearful and kind life that was Macallan.
Your love of the outdoors in the green and the sun, eating the grass, swatting at insects, smelling everything.
Dear precious Macallan.
So frail at the end
when the time had come, with certainty,
and we said our goodbyes
and let your life slip peacefully through our fingers.
Everything we remember of you is now part of who we are becoming. Your life will go on, moments of you scattered with high probability into each living being we greet today.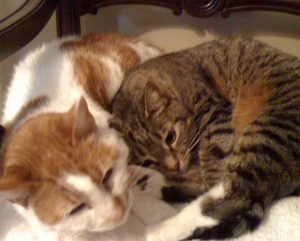 There is a bit of Macallan in everyone we see.
Macallan.
You are in every part of this experience
as we remember you
and we are glad
that we knew you
in this way.
Tags: becoming, Cats, empathy, nonduality, oneness