IMPORTANT NOTICE:
Please read my comments at the end of this post regarding
NerdBux
,
ProBux
,
Ojooo
,
WordLinx
, and
PandaProfits
which are no longer included in my "PTC portfolio." And be sure to read ALL the comments in upcoming episodes of my story, "
The Amazing Tale of 4 PTCs
."
Hey hey, it's DAY THREE and… you've got cash! Congratulations. You've joined the four Pay-To-Click sites I recommended three days ago, and now you're making money. (If you haven't joined yet, please re-read "From Small Change to Serious Money," follow the links in that article and open your free PTC accounts now so you can follow along.)
MY FIRST WEEK
Here is what my first week of The Amazing Tale looks like. Small change? You bet. Over the next several weeks we will be figuring out how to maximize income from these four PTC sites — ClixSense, NerdBux, NeoBux, and ProBux.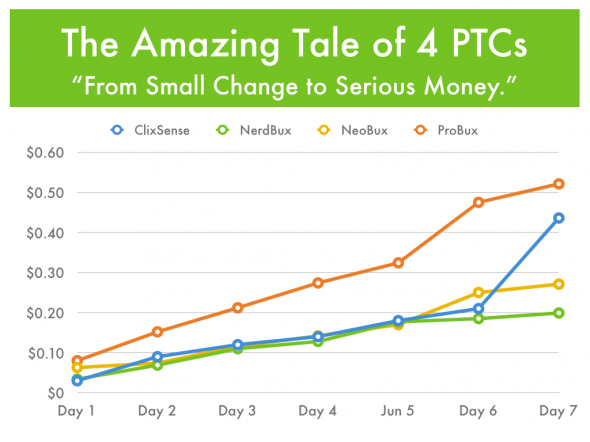 Of these four, ClixSense is the grand daddy; it launched way back in early 2007, has over 3 million members and continues to add new members every day. I joined ClixSense just about two years ago, and have been tracking my progress every day since then. (I'll tell you how in a moment.)
ClixSense has paid out over $5million dollars. Do the math and you see that's about $1.67 on average per member. Of course nobody is "average." Some members make less than that (and quit) and some members make more.
I sure hope you earn more than $1.67 in all these PTCs, and that you don't quit, and that you learn everything you can from me and other helpful resources in order to maximize your earnings.
NeoBux is the next oldest, and apparently the most popular. Born in 2008, it is now over 5 years old and has become the biggest worldwide PTC. Neobux' Alexa global rank is 66 (compared to ClixSense at 357) and it welcomed over 9,000 new members yesterday, as it does nearly every day. Even if there is a lot of churn with new members arriving and existing members leaving, NeoBux has performed in a way that suggests it is able to continue growing. A privately held corporation, Neobux has chosen not to release it's actual membership count.
ProBux and NerdBux are the new kids on the block.
Probux launched in August of 2012. It is surrounded with a bit of controversy, as it's owners may have been involved with another Brazilian site called OnBux that no longer exists. Yes, PTCs can go down in flames. There is a delicate balance between clickers and available advertisers, and site growth needs to be managed expertly. We'll see how ProBux fares over the coming months.
NerdBux is just two months old, and it's the PTC that inspired me to create this side-by-side comparison with other PTCs. NerdBux is built and run by TimTech, a group of four Traffic Exchange owners who have a reputation for solid user-friendly products, reliable payments, and well-managed growth.
WHY FOUR?
I was impressed with ClixSense. When I first joined I was logging in and clicking ads throughout the day as often as I could. I did it all on my phone! Wherever I was, whenever I had a few minutes of downtime, there was ClixSense with a few more ads. I've been using ClixSense for over a year and I think I have some insights that are worth sharing with others.
In order to do so, I devised this comparison approach to evaluate the performance of ClixSense against other PTCs. I picked four because you can click all the ads in these PTCs in about an hour. And perhaps earn four times as much as just one.
So that chart, above, is comparing the earnings from my early days in ClixSense with the three additional PTCs I joined more recently. These are my actual earnings. I believe you will benefit from my transparency so I'll be sharing lots of details with you. All the charts you'll see in the weeks ahead are real data that I've collected every day.
I will be attempting to replicate my success in ClixSense with these other three PTCs, and be able to quadruple my earnings. You'll benefit from working all four at once, rather than earning with just one as I did in my first year with PTCs. YOUR HOMEWORK – I want you to collect the same data as I did so you can keep track and make your own comparisons. And I'll make it easy for you.
Download the TameBearPTCSpreadsheet (xls) and start charting your own earnings.
THE UPTICK
Total earned in my first week with these four Pay-To-Clicks is about $1.42. Take one more look at the first week chart. See the peculiar jump in ClixSense on Day 7? What do you suppose happened on that day? Think about it. Hey I'm sure you're getting plenty of emails already. Most of them probably don't involve this much reading. I'll send you the next installment of The Amazing Tale in about a week, and then I'll explain what the uptick is all about. In the meantime, click in your four PTCs every day and record your daily totals in the spreadsheet. Until next time… Bear Hunters! Best of success to you. :)