Nearly all the programs, tools and training in Internet Marketing are free to join. And typically they offer one or more UPGRADES that unlock additional features, add or increase earnings/commissions, or generate more referrals.
I spent a few days evaluating whether to upgrade in ClixSense. I asked Marie "Sassy" Perrelet. (Look her up — @mfpsassy on Twitter. She has been called "The Queen of Pay-To-Click.") Sassy has built a business around promoting lots of PTC opportunities after testing them for a few weeks or months and then publicly reporting her earnings.
Sassy said my income would double in ClixSense if I upgraded. More ads, more 2¢ ads, and more income from referrals. An annual upgrade in ClixSense costs $17.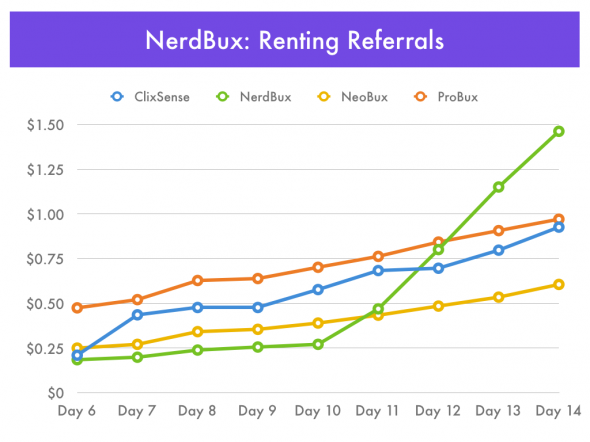 That uptick on Day 7 is my upgrade. As soon as I upgraded, I had an entire page of new ads to click on! More than I had ever seen before. I think ClixSense holds back some ads just to be able to provide a burst of extra income the moment anyone upgrades. It was a rewarding feeling.
Before the upgrade I was earning just 3.5¢ per day. After-upgrade daily earnings: 11.6¢ per day. With no referrals (I had only joined the week before) I could earn my first $8 payout in about three months because of that upgrade, versus nearly eight months without the upgrade. I'd get four payouts in my first year — $32 — and net $15 after subtracting the upgrade cost. Compared to $8 without the upgrade.
Clearly upgrading right away in ClixSense was a good decision.
What about the other three PTCs we're now comparing with ClixSense? Not all upgrades are equal…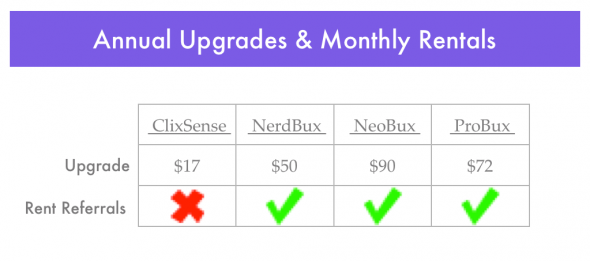 The main benefit from upgrades is the increased commissions from referrals. Because it costs a lot more to upgrade in the others, I'm holding off for now… but I have my eye on NeoBux. Why is the $90 "Golden" upgrade so golden? It's because daily Fixed Ads earn 10 times as much. Upgraded members earn a penny for each Fixed Ad, while free members earn just 1/10 of a penny for each Fixed Ad.
Once I have some referrals in these programs, I'll take another look at upgrading.
RENTING REFERRALS
I began promoting ClixSense almost as soon as I upgraded. I was already earning a lot of credits in traffic exchanges, so I used those credits to advertise ClixSense, using my referral link. Later on I began advertising in safelists too. And now and then I would tweet about it. Gradually I started getting some referrals.
NerdBux, NeoBux, and ProBux offer the advantage of being able to get referrals immediately — you can rent them. Costs are about the same. Rent a few or rent alot.
On Day 11 I spent $20 at NerdBux to rent 100 referrals. You can see what that did to my daily earnings. I quickly overtook and shot past what I was earning as an upgraded member at ClixSense. In my next blog post I'll be analyzing my rental experience to show you whether it is a worthwhile expense or not.
CLICKING ADS ON MY PHONE
One more thing before I close this post. In the previous episode I mentioned that I was clicking ads on my phone. I have a smartphone, it's an iPhone 4S, and for about half a year I did all my ClixSense ad clicking on my phone. I clicked most of the day's ads on my phone before I even got out of bed in the morning. Then throughout the day, whenever I had a spare moment, I checked and clicked a few more.
That ended in December 2012 when ClixSense added some additional security to ensure that advertiser videos were actually viewable. You see, Apple has never permitted Adobe Flash on their iPhones (it really eats battery). Some of the ads I was clicking on contained videos, and I couldn't see them on my iPhone. That was fine with me. :) But not so good for advertisers. You may still be able to use ClixSense on smartphones that use the Google Android OS. I wrote to ClixSense and asked them to reconsider, since mobile computing is only getting bigger, and more and more people every day are clicking for cash on their phones. For the moment, they aren't buying my argument.
If you have an Android phone I'd be interested in knowing if you are able to use ClixSense on it. Please add a comment below.