One hour and three minutes — that's how long it took for me to complete my clicks today at the seven Pay-To-Clicks now included in my "porfolio" of online marketing sites. I'm now earning an average $3.11 daily in these PTCs.
This is Day 60 of "The Amazing Tale."
If you are now advertising your PTC affiliate links, here is a new place to show them off: BuildMyDownlines.com. I'd love to have you as my affiliate there. (Note: this traffic resource is "Safe-List"-like, so you will be receiving a lot of email from it. Best to use your Gmail Contact or List email address. We will be covering Downline Builders and Safe-Lists more in the future.
It took me 30 Days to earn my first $25 in the PTC internet marketing sector. Over the next 30 days I earned three times that much. Here are the numbers today.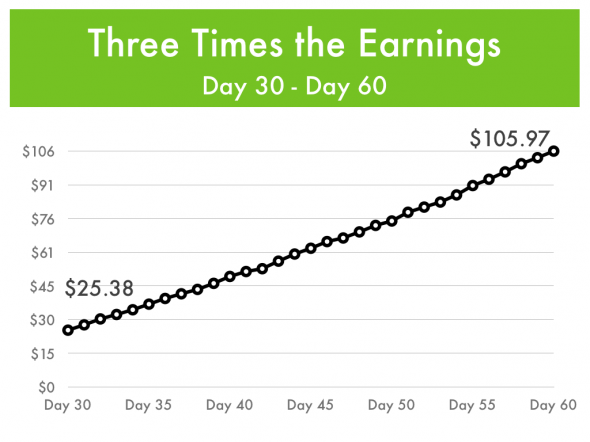 I earned another $80.59 in the past 30 Days. Wow.
Spending continues to outpace income. In the past 6 days I have spent another $45 — that's a spending rate of $7.50 per day or more than twice my daily income.
Days To Profit
at $3.11 per day
123 days
Here is a spending breakdown. In the past 6 Days I have spent $10 at StoryBux to upgrade my account for one month ($3), advertise on the StoryGrid page for a month ($3), and fund my account for renting referrals ($4). I have spent $5 at Hitzza for another week-long ad spot on the Dashboard.
And I bought a $30 24-hr Fixed Ad at NerdBux.
FIXED ADS ARE A FIRE HOSE
Wow — that Fixed Ad at NerdBux? My ad page got 27,540 hits in just 24 hours.
Don't run advertising like that unless you're sure you have reliable hosting and plenty of bandwidth to handle it.
In 24 hours I got 92 new subscribers to this "Amazing Tale" ongoing series at Tame Bear Weblog. A few of those new subscribers have also become new referrals at the PTCs.
My ad page conversion ratio is:
92 / 27540 * 100 = 0.33%.
That's not an exceptionally good ratio, but it still produced real results that I am real happy about.
ACQUISITION COST
Cost for that 24-hour advertisement was $30, or about 33¢ per new subscriber. Was it worth it?
The new subscribers are now on my email list, and over time some are likely to join more Pay-To-Clicks or other related internet marketing programs (such as BuildMyDownlines.com) when I recommend them. If I can help my subscribers become successful in professional internet marketing, they will be investing in their own business and I will earn commissions.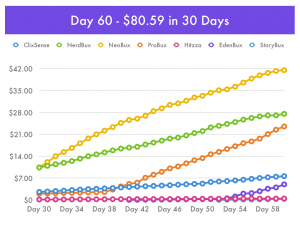 How much I earn from each new subscriber will become a very important business metric that I need to know. But right now I don't have enough data about what subscribers and referrals earn. That will take more time.
EVEN MORE REFERRALS
I rented 100 referrals at EveBux about 10 days ago, and you can see the purple line on the chart set to pass ClixSense in total earnings soon. I will probably be taking my first payout at EveBux in just a few days.
Meanwhile at NerdBux I am letting some non-productive rentals expire in order to improve the productivity of my "office pool" by attrition. (See "Spending Money to Make Money" for more about the "office pool" concept of referral renting.)
I have also been busy "freecycling" referrals at NerdBux whenever I can. Often there are no available referrals.
One trick I've discovered is that I can freecycle referrals one at a time, even when I am not able to freecycle a group of referrals all at once. So if you're anxious to freecycle your deadbeats, try doing them one at a time. It takes a little longer but in the end you may be able to freecycle them sooner.