UPDATE: Nerdbux, which was SOLD in March 2014, was one of my top earners. After the sale, earnings dropped to almost nothing, and then the new owner deleted my account. I am no longer promoting NerdBux, and I advise you to stay away from the owner — Jeffrey Johnson — and any sites he is associated with. In my personal experience, he is a bad person and I hope you never have any dealings with him.
The topic of this post today is, in hindsight, what really brought NerdBux down. I believe the guys at TimTech wanted to be generous, but in so doing, they set in motion their own downfall. But it did not look that way at the time.
Now read on to see what they did…
WHOA!
I say "Whoa!"  Something incredible has happened at NerdBux.
This is a game changer.
This is a wake-up call to the entire PTC industry, and newcomer NerdBux is not afraid to rock the house, big time!
THE HUGE NEWS
In an email titled "Huge News" NerdBux made this announcement three days ago to all their members:
We've heard your concerns and we're changing the way you earn money in NerdBux!

Starting today, you will get paid for all your direct and rented referrals who click on micro ads! It's a popular trend in the PTC world to NOT pay you on all your referral clicks on micro ads, well today we're shaking things up!
This is unprecedented. Unheard of. Astounding.
Pay-To-Click sites typically pay you half a penny when one of your referrals clicks on a 1¢ ad. If you are upgraded, both you and your referral earn a penny. But the 1¢ (and 2¢ and 3¢) ads are a small chunk of the total ads available to click. As you know most of those ads pay only 1/10th of a penny. And until yesterday you'd earn nothing at all when your referrals click those ads.
But NerdBux has just stepped up to the plate and hit a homer.
If you are upgraded in NerdBux (as I am), you will earn 100% of everything your referrals click on. When a referral clicks on a 1/10th-penny ad, you earn 1/10th of a penny. That may not sound like much but it can really add up if you have a good number of referrals. You'll see in just a moment.
STATE OF THE AMAZING TALE
So here's where we're at today — DAY 72. The impact of this news is huge and shows up on our chart as a noticable curve upwards in the green NerdBux line.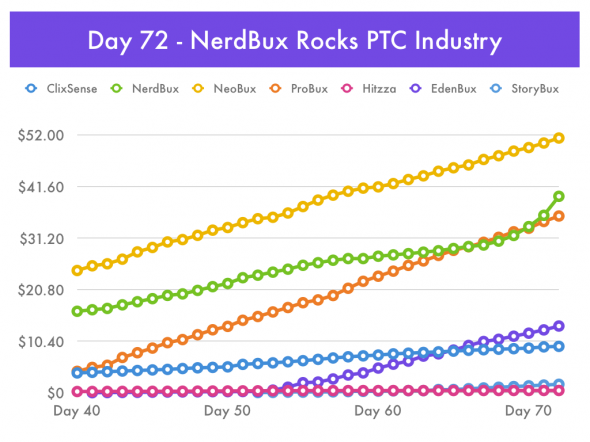 I've continued to pump money (there's another water-like reference) into my portfolio of PTCs, and I've taken additional cashouts at NerdBux, NeoBux, and ProBux. I've also taken a first cashout at EveBux.
Days To Profit

at $4.81 per day

96 days
Current earnings per day is $4.81.
RUN THE NUMBERS
Oh yeah — this is huge.
Say you have 200 referrals. Let's also say there are 4 penny ads and 20 1/10 penny ads to click on. When we run the numbers here's what happens… You earn 6¢ that day from clicking all the ads. Each of your referrals earns 6¢ too. And you also earn 6¢ from each of your referrals — all 200 of them — so your additional earnings are… wait for it… $12.00! You just earned $12.06 that day.
In reality not all referrals are clicking all the ads. Some only click on the 1¢ ads, and some don't click at all. As I've mentioned in "Spending Money to Make Money" it was quite challenging to make any profit at all at NerdBux by renting referrals.
But in the few days since this change happened, I went from earning an average of just 34¢ per day at NerdBux to earning $1.79 per day.
Whoa!
Now you get it?
RENT MORE REFERRALS
Remember our simple formula for renting referrals:
"If I pay $20 to rent 100 referrals for 30 days, they will need to earn 66¢ per day to reach break-even."
So if I am earning $1.79 per day, my net profit is:
$1.79 – $0.66 = $1.13 per day
This is the profit zone. Now the more money I spend on referrals from NerdBux, the more money I will make.
If I can make a net profit of $1.13 per day, that's $7.91 per week, $34.28 per month, $411.32 per year. At NerdBux. With my current "office pool" of about 200 rented referrals.
So then, what do you suppose I did this morning? First thing I did was pour more money into NerdBux and rent more referrals.
(Pour. There's another water-like term for describing the flow of money.)
THE PROFIT ZONE
Once you're in the profit zone, it becomes easy to project your earnings…
200 referrals = $411.32 per year in net profit.
400 referrals = $822.64 per year net profit.
4,000 referrals = $8,226.40 per year.
Do you want to earn $50 per day? Then rent 8,874 referrals at NerdBux.
Do you want to earn $1,000 per week? Then rent 25,284 referrals at NerdBux.
NerdBux is attracting new referrals at a rate of about 1,500 per day. That is remarkable growth. If you want some of those referrals, then take action and start renting. And if you are not yet advertising your own NerdBux referral link everywhere you can, to get direct referrals? What are you waiting for? 
IMPACT ON THE INDUSTRY
Those net profit projections are for renting referrals at only one PTC — NerdBux.
But I think it's likely that before long, other PTCs will begin to follow NerdBux's lead and start paying for every single referral click.
Take NeoBux for example — some have been calling NeoBux "The King of PTCs."  But now NeoBux has got to be looking over their shoulder and wondering if NerdBux will zoom past them and steal their crown. I don't think NeoBux will let that happen. Do you?
Have you also seen a big uptick in your NerdBux earnings? How do you think this huge news will impact the PTC industry? Add your comments below.
Pay-To-Click is a tight community where everyone else is trying to follow the leader. So when upstart NerdBux makes a game-changing move like this, other PTCs are bound to follow.