Once you've reached the "Bottom of the Trough" as I described in the previous episode, cashflow is about equal in both directions. You have earnings coming in, and you're carefully managing your spending. You want your earnings to pay for some advertising and for renewing rented referrals.
Figuring out the "right" number of Rented Referrals at any given time in your PTCs is not as easy as you might think. There has to be enough ads available for those rentals to click on to make the cost of renting pay off.
I'm inclined to wait for the ad specials and discount sales to come along, because that loads up the site with lots of ads to view. Then I'll spend a good chunk of earnings and rent 50 or 100 referrals at a time. That's been a good instinct, because all my rentals have plenty to click on and earnings are up up up.
What's harder is letting rented referrals expire.
I don't yet have the knack for letting them go. So then I get into the situation where nearly all my earnings are going to renew the referrals I have, even as they are earning less and less. It means I have little money left for advertising. That's something I need to recognize and fix.
Renting referrals needs to be a little like breathing — you breathe in, you breathe out. It's as if I don't know how to breathe out.
When ads are less abundant and referrals have fewer ads to click on, they earn less money. Many won't click all the ads, some won't click every day, and some will give up and quit before their expiration date. To use my "office space" analogy, when available ads are low I should let rented cubicle count decline. But I tend to want to hang onto the cubicles, and freecycle workers in hopes of getting more active clickers. What I need to realize is that even active clickers won't pay the rent if there are not enough ads per day to click on.
CALCULATE MAX EARNINGS PER DAY
Here are my current referrals…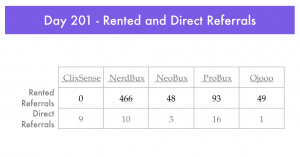 NerdBux seems to be where I am overbought on referrals. Having too many referrals means you're paying more to keep them than they are actually worth.
NerdBux has a lot of flux in available ads because, being a new PTC, it's driven by the deals, so when NerdBux offers a daily fixed ad special, or a three-day or seven-day special, there are loads of ads to click on, and when the special is over, that number of ads declines to a very low number.
Let's say for example that ads at NerdBux have reached a low point. (Do a count right now and see how it compares to this example.) There may be only one standard ad ($0.005), maybe nine micro ads ($0.001) and six fixed ads ($0.001) so the most anyone can earn in this example is
$0.005 + (9 * $0.001) + (6 * $0.001) = $0.02 per day
If I've paid $0.20 to rent one referral for 30 days then they need to earn at least $0.0066 every day just for me to break even. What if they only click on the high-value standard ad and a few other ads, and skip the rest? What if they only do that every other day? What if they quit ten days before their renewal comes up?
What I need are some rules to help me decide whether to renew or let them expire.
HERE ARE THE RULES
Turns out someone has already figured this out. I came across a post by Satria in the NerdBux Forum, where he shares the rules he's using to manage his rented referrals. Here they are (with some editing for clarity.)
RENEW RENTALS IF:
They have been active in the last 7 days before expire date.
They have earned at least as much as it cost to rent them.
IF they have NOT met both requirements above, let them expire.
MORE RULES
Never recycle RR's before 15 days.
Never pay to recycle RR's. Use only Freecycle to replace inactive RRs.
Focus on ACTIVE & PROFITABLE RR's only.
Extend 30 days any current profitable RR's.
Set AutoPay to Disable (OFF).
The Reason AutoPay is set to Disable:
Autopay will spend your money to renew a referral even if they click only 1 ad per day. Many RRs aren't clicking all available ads. If they click too few ads AutoPay is causing you to lose money. Profitable RR's should earn at least $0.007 per day.
With AutoPay turned off, it's easy to find the referrals that are available to Freecycle. Just sort the Last Click column and look for "NOW" in the Freecycle column.
TAME BEAR RULES
Days To Profit

at $4.27 / day

151 days
This is Day 201 of "The Amazing Tale," I have 466 rented referrals at Nerdbux, and the ad supply is getting very low at the moment — just 16 ads. If I were to renew all these RR's for another 30 days, it would cost me $93.20 or $3.10 per day to do so. In the past 10 days earnings have averaged $4.27. That leaves me just $1.17 left per day for advertising, and no profit. So I will be following these rules closely.
But with ads low, I want to be pruning my referrals and improving their overall performance. Therefore I will add three more rules:
TAME BEAR RULES
Check for Freecycles every day. (And Freecycle them regardless how much money they've made.)
Only renew RR's that have an Avg. of 7.34 or greater.
Don't rent new referrals until there are at least 22 ads to click on.
Some rentals will have met all of Satria's rules, but if they don't satisfy these three "Tame Bear Rules," they aren't adding enough to my profit to make it worthwhile to manage them. And they are costing me advertising money. So going forward this is how I will decide whether to keep a rented referral or not. My total number of rented referrals may rise and fall then, depending on how many ads are currently available and how my rentals perform. Like breathing.