PLEASE READ ALL COMMENTS AT THE END OF THIS POST: Ojooo was once one of the great PTCs, but for some time there have been reports that it is no longer paying. I have had a requested cashout pending for several months that I have not yet received. It is still one of the leaders in earnings, and my strategy has been to put my earnings into advertising instead of cashouts. If you are already in Ojooo, consider this strategy. For new followers, I no longer recommend joining Ojooo, and if it continues to delay payments for months, then it cannot last.
---
There's a lot to like about Ojooo.com, a Germany-based international Paid-To-Click site with over 3 million members and always lots of ads to click.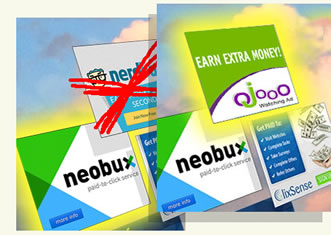 We actually added Ojooo to our PTC portfolio on DAY 84 of "The Amazing Tale," but moved it to the #1 spot among our core four PTCs after NerdBux was SOLD and dismantled by the new owner.
In the coming weeks you'll read a lot about NerdBux as this story unfolds, because for a time it was the top performer in our "PTC portfolio." However we advise you to NOT join NerdBux because the new owner has yet to prove himself genuinely interested in making it profitable for anyone.
NerdBux began in late June 2013, and in it's short life it attracted over 330,000 members and was the fastest growing and highest paying PTC on the internet. The lessons learned there — about managing rented referrals, calculating profitability, and reinvesting earnings to grow daily income — remain valuable takeaways.
We are really excited about Ojooo  — it has become the most profitable PTC in terms of bankable income. Here are just a few of the reasons why.
MONTHLY $10 COMMISSIONS
With Ojooo, upgraded members get double the earnings and even more ads to click, and triple the earnings for Premium+ members; $10 commissions for every referral upgrade; and free automatic recycling of underperforming referrals. 
Ojooo became my second net profit PTC in the portfolio just about the time NerdBux was doing its crash and burn. Ojooo and ClixSense have both earned back everything I've spent on upgrades and are making money for my business every day.
If you are not yet using Ojooo, I encourage you to add it to your portfolio, set a new bookmark for it and click every day. I think you'll be real pleased with how quickly you can earn there, especially if you reinvest earnings to begin renting referrals.
But the real sweet spot in Ojooo is those $10 upgrade commissions. Any direct referral that upgrades will earn you $10. Any direct referral that upgrades to Premium+ will earn you a $10 commission every month!
So get signed up today and start clicking at one of the best PTCs available today.