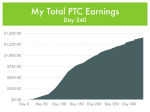 It's been pretty quiet here at Tame Bear Weblog — over two months since my last update on "The Amazing Tale of 4 PTCs." Let me assure you that I am fine, and my PTC business is still clicking and earning.
At this point (close to a year into my story) I am net positive in three of the four "core" PTCs. I have earned and received over $1,400. Expenses (advertising, renting referrals, losses) have exceeded earnings by about $800. The LOSSES are from PTCs that I earned money in or put money into and was not able to cashout because they went *kaplooie* (That's a technical term. :)
My biggest kaplooie has been NerdBux. If you are just beginning to read my story, then over the coming weeks and months you'll read about my experience with the rise and fall of NerdBux. My net loss there was $167.
OH THE PLACES I HAVE BEEN
We are now well into summer, and as I look around at the greenery in my backyard it's hard to imagine that all this was carpeted in deep snow and cold not so long ago.
I was in the midst of writing a piece on Autoresponders, the third in a four-part series of posts I called "The Perfect Campaign." And then I got stuck, literally.
A week went by and I could not get a handle on a simple way to write about my experience with autoresponders. Two weeks, three. The fabled writer's block had set in like the chill of winter. By the time the first warm winds began blowing in early Spring, other business had pushed blogging to the back burners.
Nina Miller, my mother-in-law, who had lived in the house next door for many years, died in February. My beloved Treesh is her daughter and executor, and we've been occupied with the many details of settling Nina's affairs — legally subdividing the lot between our houses for a larger "Beriewede Market Garden;" getting the house appraised and putting it on the market for sale; organizing and executing a very successful garage/estate sale of all Nina's worldly belongings; selling her car; and finally closing the deal and selling the house just two weeks ago.
My web hosting business has been heating up as the larger economy improves. More small business owners are learning and using WordPress and figuring out how to do online ecommerce affordably on a small scale.
I've also volunteered to provide technical support for a  local crowdfunding initiative here in my home town of Goshen, Indiana. Several of the local retail businesses are contributing to the effort, and the prospects for startups, explosive business growth, and ongoing support for a variety of civic clubs and non-profits in our area is very exciting.
All my computers are showing signs of aging, and since my last blog post nearly every one of them has needed some repair, improvement or replacement this Spring. Our family iMac had a logic board problem, my trusty old 2007 Macbook Air had RAM and hard drive problems that were too expensive to repair so I have a shiny new one on order for delivery soon. My desktop Mac Mini also had RAM failure but fortunately those chips had a Lifetime Warranty and I got them replaced for free.
And then last week a drive on my business web & email server needed replacing, and I inadvertently botched the RAID rebuild — rendering the server non-bootable! That was a YIKES moment. Fortunately I have a fantastic crew of tech support folks at the secure data facility in Milwaukee where my server is housed. Together we quickly devised and executed a recovery plan and the server was back online within a few hours with all it's system files, web sites, and databases intact.
Treesh and I managed to take off for a long weekend in June for a regional Burning Man vacation in Michigan. During that time I was mostly offline, and did no clicking at all. On my earnings chart above, the vacation shows up as a flat spot in the curve. Any day that we don't click, we don't earn — from our own clicks and from any Direct or Rented referrals.
With all this happening, I've still managed to do some of the things I love to do: inspecting our beehive, bottling small batches of home made wine, attending jazz open sessions with friends at Merriman's Playhouse in South Bend, hanging out with friends at our local pub A Constant Spring, and… OH YEAH, World Cup Soccer!
WHAT'S UP WITH OJOOO?
Hey have any of you noticed the cashout problem happening at Ojooo? I submitted a cashout request in mid-April and it is still pending. A forum post explains they're dealing with cheats/bots. (A new draw-the-picture verification after each ad view is now in place.) I got a similar reply from a support ticket I opened last month.
Meanwhile I continue to accumulate earnings at Ojooo from my daily clicking and referrals. I can tell by the way new ads are showing up every day that it's still an active site. Once I had accumulated $75.00, I put it towards a 1-day Fixed Ad. I got over 28,000 page views, 44 conversions, and 21 confirmed subscribers to my list. Since my estimated value per subscriber is $4.18, this ad on Ojooo earned $87.78 for a net profit of $12.78 — money well spent. That's one way to benefit from earnings when you can't cashout.
ANOTHER UPGRADE
ScarletClicks celebrated its 15th birthday a couple months ago with lots of great deals. I grabbed an annual upgrade for $70 and then spent another $10 to rent more referrals for a month. This being the slow summer season, they barely paid back — another lesson learned. ScarletClicks is a slow-but-steady earner that has been around for much longer than most.