Welcome to all our new subscribers to Tame Bear's "Amazing Tale of 4 PTCs," my personal journey in Paid-To-Click advertising and earning. This is a subscriber-wide broadcast to alert you to some important changes in the PTC sector.
I've made a change-up in my "Amazing Tale" Core 4 PTCs. One Paid-To-Click site has been added, and one has been removed. ClixSense and NeoBux remain the reliables in my Core 4 since Day 1. But I recently moved LeadsLeap to the top spot because it has been an effective lead generation system since 2008, building a network of members who place ad "widgets" on their own web sites. In late 2015 LeadsLeap launched v2.0 and introduced their own unique take on Paid-To-Click. Members now participate in revenue sharing by viewing ad pages, using a custom viewer/timer. I am happy to recommend it.
[insert_php] include('ptc-blurb-inc.html'); [/insert_php]
JOIN LEADSLEAP
Since 2008 LeadsLeap has been delivering above-average conversions to its members, through a novel blog-based advertising network that keeps growing as it brings in new members. LeadsLeap is a newcomer to the PTC scene, but has a deep knowledge of business management, and I've been very pleased with the earnings, as it continues to deliver high-converting leads to my own advertising.
PANDAPROFITS GONE
Launched quietly on Thanksgiving Day in 2015, PandaProfits was one of the most promising PTCs to come along in some time, based on the quality and experience of their ownership team. Initially they were adding 30 to 50 new referrals every day. But it was not to last. They reportedly spent too much money on advertising, and within just five months they had spent everything they earned and had no more money left to pay current cashouts. It was a classic case of undercapitalization and not managing expenses. A sad demise.
CASHNHITS DROPPED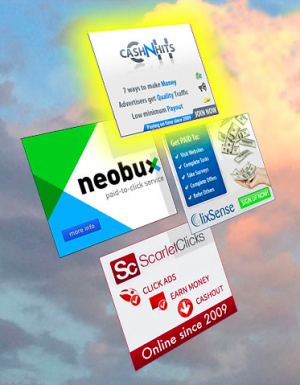 At CashNHits, withdrawals had been suspended for several weeks, and then it appears the site was hacked. I hope CashNHits can make a comeback, but I'm not holding my breath.
SCARLET CLICKS DEMOTED
To make room for this newcomer to the Core 4, I have moved ScarletClicks to the fourth spot. ScarletClicks continues to be one of the best PTCs to be in, because it is a well-run program with longevity, in operation since 2009. ScarletClicks is not a great earner, but it is a steady reliable earner that pays, and I continue to recommend it. It should be one of your own top four PTCs. If you are not yet in ScarletClicks, please click my referral link and join today.
TROUBLE AT WORDLINX
WordLinx, which had been in the fourth spot, has been knocked out — for good reason. WordLinx appears to be having trouble paying. I received one cashout from WordLinx back on Day 493. Since then I earned another $15 but have not been able to cashout, after trying every day for over two weeks. So it looks like WordLinx is currently unable to pay.
Though demoted, I continued to click at WordLinx until my annual membership ran out. Then I got the double-stacked ads, and that was enough to decide WordLinx should no longer be in my "PTC Portfolio." WordLinx is OUT.
DISAPPOINTMENT AT OJOOO
It has been over half a year since I received a cashout from Ojooo! My last cashout request for $95.72 is still pending. If you are not already in Ojooo, I do not recommend that you join at this time. Ojooo is OUT.