I dropped the ball and didn't follow up on a previous report from Day 455, in "The Gold and the Silver." That was nearly a year ago.
[insert_php] include('ptc-blurb-inc.html'); [/insert_php]
Here is the rest of my story.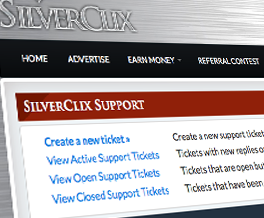 Wow, has it been a whole year already?
Well I never got around to the Photo ID + Recent Photo member verification compliance test. Just wasn't interested in doing it. But I still logged in and clicked all the ads every day, and a year later I had earned over $18 at GoldenClix and about $9 at SilverClix, and really wanted to make cashouts at both.
So I submitted a Support Request over at SilverClix. Here is my email to support:
Hey SilverClix/GoldenClix admins, I'd like to get paid, but cashout requests keep being returned to my earnings balance. I understand your need to identify REAL affiliates (I am not a bot) but I cannot recommend SilverClix to my team if you insist on your particular method of identification: drivers license and photo. In my view this invites IDENTITY THEFT, which is no fun for anyone, and because I respect all the hardworking members of my team I will not recommend that they submit their drivers license for your examination. As an alternative I hope that I can satisfy your identification requirements by connecting my real name with my online personality.

I use the brand name/ online personality "Tame Bear" for all my online marketing. People become familiar with the image, advertising, and blog for Tame Bear, and those who follow me know and trust me. They know I am not a REAL bear. My actual name is Peter Oakley. I am a webmaster and owner of the firm Oakley Studio, LLC in Goshen Indiana USA. You can see my Introduction page (with photo) here: http://www.oakleystudio.com/peteo.php

"Tame Bear" has become a valuable brand that I use consistently for all my online marketing. My team has come to rely on the Tame Bear brand for sound advice and profitable recommendations. My marketing hub is here: https://www.tamebear.com

Please review the "About Tame Bear" page to see how I connect my real name, Peter Oakley, with the Tame Bear brand:

Can this simple online documentation allow me to request and receive a cashout here at SilverClix? Or is there some other alternative to identifying myself as a real person that would be equally satisfactory, without making myself (and others) vulnerable to identity theft?

Please let me know if this will work for you. I would like to begin recommending SilverClix to others, but I can not do so if you do not pay.

Thanks for your consideration.

Sincerely,

Peter Oakley, webmaster (aka: "Tame Bear")
Blog: www.tamebear.com
Biz: www.oakleystudio.com
Twitter: twitter.com/TameBear
Skype: oakleystudio
In other words, I laid it all out there, and proposed an alternative solution.
Within an hour I had a response back from Edin Ikanovic, owner of SilverClix and GoldenClix. He told me they had recently implemented a less intrusive "advanced anti-cheat system" to combat the cheaters. He's happy to pay my cashout requests immediately. So I submitted withdrawal requests at both SilverClix and GoldenClix and within 48 hours I had the money in my PayPal account.
Day 815

ADVERTISING

$1,563
After this happy outcome, I am pleased to recommend both GoldenClix and SilverClix to everyone on my team. Please join and add these two gems to your PTC portfolio.