You know my motto in this PTC series has always been "Click all the ads, every day." But now I've met my match.
ClixSense is serving up more ads than I can manage to click in a day! Hoo-lie-kow!  It's ClixSense Gone Wild. Granted, I don't spend all day on Paid-To-Click ads (or traffic surfing, or reading safelist emails.) I get as much done as I can in a few hours each morning (see "A Day In the Life") and then I get on with my day.
[insert_php] include('ptc-blurb-inc.html'); [/insert_php]
But since the beginning of the year, I've been spending more and more time on ClixSense because — it's amazing — the ads just keep coming!
If you haven't been clicking at ClixSense recently, come on back and check it out — ClixSense Gone Wild! If you click for cash, right now ClixSense is definitely the place to be.
YEAR-END RAMP-UP
It started last fall, and looked like a normal end-of-the-year ramp-up in ad spending. A few online magazines began running video-based blog posts with catchy titles. Videos cool enough that you just want to share them. Like "Ice Wheels Might Be Impractical But They Are Still Mindblowingly Impressive," a story featuring video of a guy sculpting wheels out of ice and putting them on his SUV. From online sites with names like Sonic Bound, GeeDori, Xoxly and others.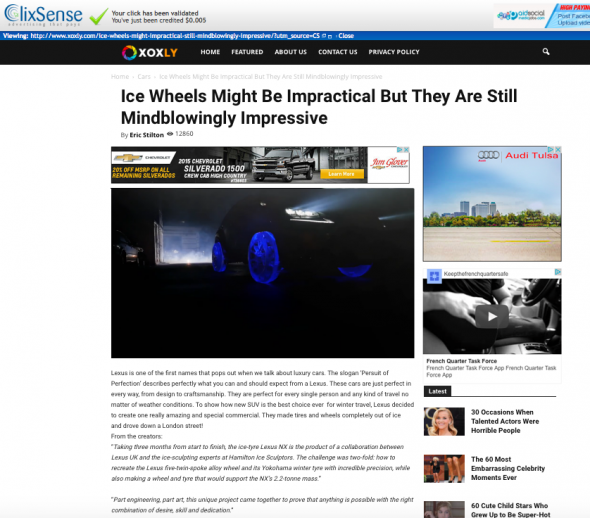 At first we saw just the video and blog post, in a nice magazine style layout. But after a couple weeks, these same pages began carrying their own ad placements — banners above the video, square banners down the right side, and drop-in video ads before their feature video plays. These are conventional advertising, even ads you see on television or in the big-name ad-based online news and variety publications.
WHAT HAPPENED NEXT WAS ASTOUNDING
The number of impressions these new upstart video blog sites were buying at ClixSense just kept increasing more and more, and didn't let up at the end of the year. They just kept coming. There are perhaps only about 30 different ad pages total, but they are being put into rotation like clockwork over and over again. It's been a little over 100 days since the beginning of the year, and I bet I've seen that same Ice Wheels ad page 20, maybe 30 times each day, always carrying at least four banner ads and a lead-in video drop ahead of the featured Ice Wheels video.
These are not the cheapo 1/10th-penny ads either, you'll earn a penny for every two 15-second ad pages you click on. That adds up. For just what I've been doing, a couple hours each day (while also tab surfing the other sites in my PTC portfolio), I earn well over $1.00 a day for the past 100 days or more just at ClixSense. That's for my own clicks. It is multiplied by my referral's clicks.
So far this year ClixSense is where the majority of my PTC earnings are coming from.
Clearly GeeDori and the others have figured out how to make money from ClixSense. But it's not from clicking ads at ClixSense, it's from buying ads, and selling ad space at higher value to advertisers that want lots of exposure. Most of us are not in a position to do this — it takes a rack of powerful servers and huge bandwidth. But clearly some out there are able to do it profitably, and we can benefit from it because we all together provide huge traffic for their advertising.
Here's what I see happening. A new video blog post appears, with a title like "This Cute Tiny Chef Is Something Every Restaurant Should Have." (A delightful video, by the way — a tiny animated chef cooks a magical meal right on the table in front of you. I'd link to it, but I think you'd prefer to get paid for viewing it in ClixSense, right?) The page runs for perhaps a week in ClixSense with no other advertising on it. That page gets tons of views — because a few hundred thousand ClixSense users like you and me are clicking and getting paid to view it every day. The publishers can then show potential advertisers, hey our magazine pages are getting huge page views, why not advertise with us here?
After a week carrying no ads, now the page shows up with banners and video drop-in ads… and the publisher ramps up its ad buys at ClixSense. It gives us at ClixSense a huge amount of ads to click on (often the same pages and ads over and over again) and we get paid for every ad we view. It also gives those higher-value advertisers enormous exposure too.
If you haven't been clicking at ClixSense recently, come on back and check it out — ClixSense Gone Wild!
NOW AT NEOBUX TOO
Then just a few days ago, the same video-blog ad pages began showing up at NeoBux too. First just a few, maybe 10 or so. But today there were at least 60. It's been nearly two years since NeoBux has been running that many ads in a day — nearly 100 total (including the 9 penny-ads and fixed ads) per day. If you are upgraded at NeoBux you're now earning 40¢ or more when you click all the ads, every day. Multiplied by your referrals' clicks — and the referrals are clicking!