You only have a business if you have a profit. Achieving profitability was the primary goal of my Paid-To-Click project when I started it three years ago. If you have not yet read (and studied, and memorized) my blog post on "Simple Business" stop everything and go read it now. It's all about the initial spending to start a business, projecting profitability, and the various scenario outcomes. This post is about my now-profitable but not yet flying high… smallest business.
[insert_php] include('ptc-blurb-inc.html'); [/insert_php]
For those of you who have been following along since the beginning, you know how elusive that profit goal has been, and what I was able to do to achieve profitability by the end of year two. (See "Net Positive Year Three" from Day 790.)
THE SMALLEST BUSINESS
Now we're another year along, and I'm happy to report that I am still making a profit from this business, though it is currently the smallest business I have ever owned and operated. I do not expect it will always be this way. The potential exists for this smallest business to become a much bigger business.
There is only one thing that must happen for my little business to become a big business… I must continue working at it.
Persistance. That's the one ingredient in the formula of every successful business. And so in this business I do my best to click all the ads every day, spend a few hours at it every single day, blog about it every few weeks, and keep advertising to bring in more folks like you who are inspired to do this yourself.
Day 1140

ADVERTISING

$1,732
Yep, I've been working at this business for 1,140 days. Including saturdays and sundays. Rare is the day I don't do my clicks.
Over this past year I have earned $873, spent $247 on upgrades & fees, and $232 on advertising, resulting in a net profit of $626 this year. My net profit last year was $142. Total net profit here at end of Year 3 = $767. All ongoing advertising expenses can now be paid from net profits.
This business has lifted off and is airborne. Though not flying high — not yet. :)
Like me, you too are building the smallest business, and if you persist then you too can have a reasonable expectation of growing your profitable business into a much bigger business.
Online marketing is a network-based activity, and typically network businesses that rely on recruiting and downline building grow very slowly in the beginning but become more and more robust over time. They can grow exponentially. That means the rate of growth is speeding up. So a slow start is no prediction of the ultimate outcome.
And because exponential growth can happen without me changing any of my business practices, if I am persistant and keep doing what I've been doing, my smallest business will continue to grow.
THE CHART IS BACK!
I had been charting daily earnings for the first year, and it was becoming too much work to update the chart every day. So I stopped doing it. But I still recorded my earnings, expenses, ad spending, and cashouts in a spreadsheet. At some point last year I switched to recording my earnings every 5 days instead of every single day. That was much less work.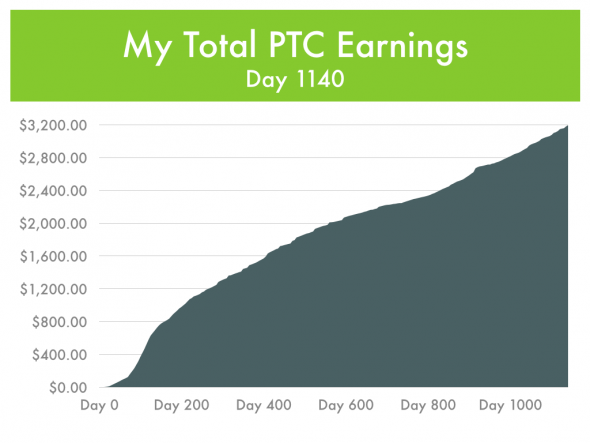 This is the first time I've actually charted the 5-day increments, but now that my chart is up-to-date I ought to be able to continue updating it over the next year and beyond. I also want to update my Expenses and Advertising charts so we can compare those with total Earnings. I'll save that for an upcoming blog post.
You can see where earnings ramped up a bit last Fall 2015 (near Day 750) when ClixSense first started getting more ads than I could possibly click on. (For details, see "ClixSense Gone Wild.") And that steep upward tick near Day 900 was where I took an initial cashout from LeadsLeap. (More about LeadsLeap momentarily.)
MY CURRENT PORTFOLIO OF PTCs
Here is a listing and some brief notes about each of the Paid-To-Click sites in my "smallest business portfolio" of PTCs (See "What's in YOUR Portfolio?" from Day 84.) I have divided the list into three parts so you can see which ones I am happy to recommend and which ones are still in testing, and have not received any cashouts from yet.
My Core 4 — These need to be in YOUR Portfolio!
LEADS LEAP – For years this has been a very good "lead generation system" and highly informative blog from author Kenneth Koh. Create text ads that are shown on widgets appearing on member's sites across the global internet. Put the widget on your own web site to earn credits and cash. This is my best-converting advertising resource! Several months ago LeadsLeap morphed into a Paid-to-Click, through revenue sharing. Upgrade, click, earn, and advertise here.
CLIXSENSE – This site stumbled recently from a hack attack, but is now back on track with improved security and the same advertisers that made it a big earner starting about a year ago. (See "ClixSense Gone Wild.") Hoo-lee-kow! This one's a keeper. And still with one of the lowest upgrade costs — just $17 per year. Very profitable. Upgrade. And spread the word, ClixSense is on fire!
NEOBUX – At first this was a challenging site to earn a profit in, mainly because the annual $90 upgrade is pretty hefty. But since the start of this year NeoBux has attracted the same advertisers that set ClixSense on fire. There are now almost too many ads to click, all paying 1/2¢ for 15sec page views. If you have downline, then upgrade. Easily make at least $1.00 per day.
SCARLET-CLICKS – Oldie but goodie. I'm not sure why but not a lot of people were promoting this one when I first joined over two years ago. Since then I have over a hundred people in my downline and many are persistent clickers. So it's a steady payer. Upgrade.
Tested and Recommended
Testing – No Cashout Requests Submitted Yet!
OVER AND OUT
And one more list for the record. These are PTCs I was either testing or recommending at various times over the previous three years. Now they are gone or not paying. The list is almost as long as my actual PTC portfolio, above.
OUT OUT OUT! – Gone or not paying.
CASH 'N HITS – A good earner, sad to see it go. Got hacked and never came back.
CASHTREAM – Not a great earner. Never made a first cashout. Hacked/viruses; never recovered.
CLIXOR – Looked like a good earner, but never paid. Totally non-responsive support.
HITZZA – Available ads dwindled to nothing, and the site was closed down by owner.
NAIDBUX – Gone. Domain name is still for sale.
NERDBUX – Remember this one? Wow. TimTech's short-lived venture in Paid-To-Click. Crash and burn. In mid-2013 it looked very promising, and it's what launched my own PTC blogging project. I still think it was simply mismanaged – they gave away too much and were hemorrhaging money. Unloaded it to Jeff Johnson who trashed it. (Watch out for that guy.)
OJOOO – This was a good one early on, and is still running. They claim they are still paying, but they won't say when. With about $134 in unpaid earnings, I'm walking away from this one.
PANDA PROFITS – Sure hoped this one would fly, but it was insufficiently capitalized, an inexperienced ownership team, and it lasted only about 5 months. I was in brief negotiations to try and save it, but it was already dead. (See "Buy a Paid-To-Click?")
PROBUX – One of my original Core 4. Paid well… until they stopped paying. Domain is still for sale.
THE-BUX – Not paying.
TRAFFIC MONSOON – Looked like it had all the right pieces and was going places. Owner paused payments while he worked on setting up debit cards for cashouts. Then in July the SEC began investigating, and a short time later the site was shuttered. Didn't look like a ponzi (no M-L-M) but who knows, maybe it was.
WORDLINX – Not paying. Squirrely rules changes. Google virus alerts. Still in operation, but don't go there.