Today's post is a roundup of some observations, advice and tips I've picked up over these past few years from the PTC sites in my portfolio. (See "What's in YOUR Portfolio.") These are sites I use every day to generate a small but steady revenue stream in my home-based affiliate marketing business.
[insert_php] include('ptc-blurb-inc.html'); [/insert_php]
It took a steady input of money to kickstart that revenue engine and get it chugging along. And it has taken some time (on average about two hours per day, and over two years) for my PTC business to reach net profitability. But after two years, my efforts earned back all the money I had spent. My little PTC business is steadily generating positive net profit, some of which goes back into ad spending, which should continue to grow this small revenue stream in the years to come.
Day 1410

ADVERTISING

$1,804
This is Day 1410 of "The Amazing Tale" and I want to share some specifics about the Paid-To-Click sites that have generated this income. Here is my earnings chart over about the past 3 1/2 years.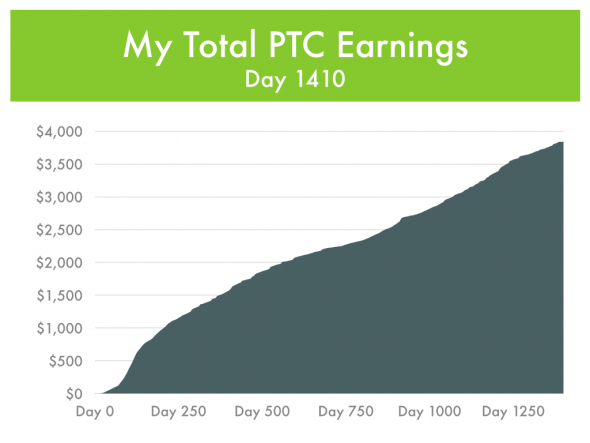 If you've been following my story from the beginning, then you too have been using these PTC sites yourself for at least that amount of time. For a complete list of these sites, see "My PTC Portfolio."
My net profit after expenses on Day 1410: $1,046.24
Net profit cashouts on Day 1410: $835.05
CLIXSENSE – THE WINNER!
This next chart shows how much of the net income was generated by each PTC site.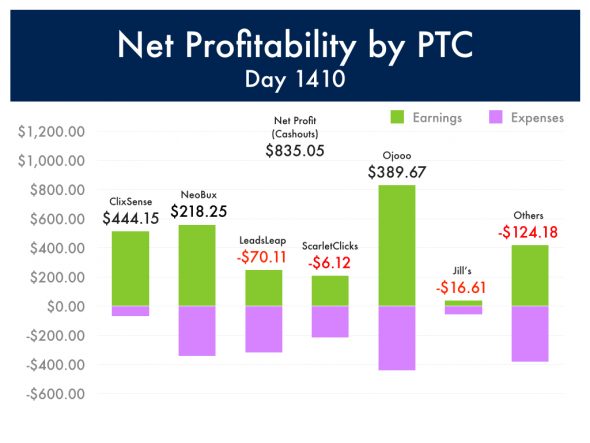 You can see that ClixSense had delivered the biggest portion of my earnings, followed by Ojooo (no longer paying) and NeoBux. We'll have more to say about each of these below. At least so far, ClixSense is the winner. And interestingly, ClixSense has the lowest annual upgrade fee in the business — just $17 bucks per year.
That upgrade cost has not increased at all in the past 3 1/2 years. It makes sense to upgrade immediately in ClixSense as soon as you join because you will have 4¢+ ads garanteed every day, which covers your annual upgrade. All the other ads there are your net profit. And having a few active referrals multiplies your profit.
NEOBUX – THE RR EXPIRATION TAX
NeoBux was a tough site to make profitable because it has the highest annual upgrade fee.
If you are able to advertise and get referrals, just wait til you have 2 or 3 direct referrals in NeoBux before you upgrade. Then you have a shot at profitability. If you don't upgrade, and therefore do not spend any money at NeoBux at all, the green and magenta ads you click on there are all net profit… But not much profit. Considering how many ads appear every day on NeoBux, this is not a bad strategy, but keep in mind the only way to grow that net profit is by attracting referrals. And once you have 2 or 3 referrals you really should upgrade to double your net profit.
In the beginning of my PTC adventure, I rented referrals. But you may recall in my 1st year review (See "One Year Anniversary") I identified referral expenses as one of the biggest culprits that had prevented me from achieving profitability. Since then I have not spent money for rented referrals, and have relied only on my own advertising to attract direct referrals to keep growing my revenue stream.
NeoBux has a nasty "gotcha" in case you are not aware of it… You're charged a "tax" for expiring rented referrals! So if you have a bunch of rented referrals and you let them expire, there's a fee for that. Ouch!
LEADSLEAP – TAKES TWO TO PROFIT
LeadsLeap is a great place to advertise. I get about three times the conversion rate at LeadsLeap than from any other traffic resource (with the exception of my own blog.) Furthermore, it takes only 2 referrals to earn a net profit at LeadsLeap. That said, the upgrade — $19.90 per month — is apparently more than most people are willing to sustain for very long. I see a lot of churn: people signup, upgrade, pay for a few months and then stop paying.
My guess is that most of these referrals are not tracking their ad pages, so they don't know how good LeadsLeap is at delivering conversions. You need to upgrade, track your ads, put several ad pages into rotation there, and see how they perform. And stick with it for at least a year.
Even if I never make a net profit in LeadsLeap, I'm staying upgraded because of the good ad conversion rate.
SCARLET CLICKS – EARN FROM REFERRALS
On your own, without an upgrade, you will earn very little money at ScarletClicks. I think this PTC is configured to favor those who recruit, because nearly all the money you earn will come from referrals. I can't explain why but I have more referrals in ScarletClicks than in any other PTC, and a significantly higher percentage of them continue to click and earn. Currently at a net loss of -$6.12, this one will be back in positive territory by the time I renew my annual upgrade in August.
OJOOO – GOING PUBLIC??
Ojooo. Ojooo ojooo ojooo. As you know I have had a love/hate relationship with Ojooo since it first became one of the top 4 PTCs in my first year. Good earnings were possible especially for upgraded members. For a time it was beating out ClixSense in daily earnings. But then Ojooo started lagging on paying cashout requests.
I have had a $95 pending cashout request that has gone unpaid after almost two years. I wrote to them about a year ago and demanded payment. Here is their brief reply.
We are very sorry but we cannot make a promise for a specific date of your payout request. We ensure you again to work unter high pressure to improve our system. The conclusion is imminent. We ask for your understanding that we cant make any other statement at the moment. We hope we could help you with these informations and wish you further success with Ojooo.
For the past couple of years Ojooo has been an enigma — a PTC that refused to pay, but still maintained a high level of traffic. And it refused to die. Normally the sites that can no longer pay end up disappearing. One day *poof* they're gone.
But not Ojooo. Perhaps it's because this Paid-To-Click is part of a larger business that encompasses a useful email service and a popular internet search engine.
I keep holding out hope that I will one day be paid. In the meantime I have this morbid fascination about Ojooo's story. So I've been logging in nearly every day and clicking on a handful of the premium ads. (Premium ads are only available to upgraded members and pay 2-3 times as much as regular ads.) That simple check-in has allowed me to earn enough to keep renewing my Premium upgrade and pay for occasional advertising there.
A few months ago Ojooo underwent an interesting evolution. Cash balances were converted to "points" where 1 point = 1 dollar. Ojooo has morphed into a traffic exchange where points are used as credits for advertising. Even if I never get paid, Ojooo remains an above-average place to advertise. I recently used $19 in earnings to buy 5,000 ad impressions. That was all spent in about 8 hours. So you can see Ojooo still has a lot of traffic! And that ad buy netted me 4 new subscribers to my email list.
Then just a couple weeks ago something else happened at Ojooo. They turned my Premium membership into cash, added it to my "pending" cahsout, and issued me shares in the business. Interesting. I now have $122 in "frozen" earnings, and have been issued 122 preferred shares. Apparently I am now a part owner in the business.
If Ojooo ever becomes a publicly traded company, perhaps I'll be able to trade in these preferred shares and finally get my earnings. I'm not holding my breath. In fact, I'm not even clicking there any more. But I still log in every day just to see what's new.
JILL'S CLICK CORNER – RANDOM REFERRALS
Regarding Jill's Click Corner, just a brief note: IF you are upgraded, you will be getting a new random referral about every week. This makes all the difference. Upgrade in Jill's Click Corner and start benefiting from those random referrals.
PPC AD SOURCE
PPC Ad Source is finished. Here is owner John Bell's message to members, posted on the site…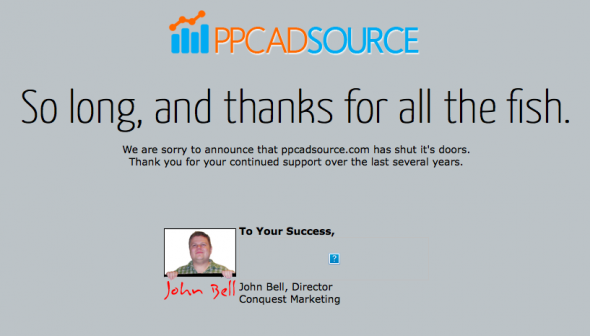 To those of us using the site every day, it was no big surprise. The number of ads on PPC Ad Source had been dwindling for several months. I was one of the last advertisers there, and I could tell by my ad tracking that the site was getting less than a hundred visitors per day by the time John shuttered it.
For most of the time I used it, PPC Ad Source was a reasonable place to advertise. My PTC ads there cost $$$ total, were viewed nearly 34,000 times, and added 23 followers to my email list.
I applaude John for announcing the closure as he has done. So many other owners simply abandon the site and members don't know it until the domain name expires.
BURNED BY HITS4PAY
Hits4Pay has closed. This one was a slow earner because they never had a lot of ads… but every ad paid a generous 2¢ per view, with a tab-friendly non-active-window countdown timer. Just as I was nearing my second $25 cashout threshold, that slow ad stream slowed even more, to a mere drip. Just one or two ads every few days. I had less that $1.50 to go before I'd be able to cashout my earnings. But then last month Hits4Pay abruptly closed. Boom! My $23 and change is gone.
CLIXTEN – STAY AWAY!
Here's one to watch out for. I had been testing ClixTen but hadn't yet requested my first earnings cashout. It was one of the slowest earners. Then just a few days ago the owner confiscated all member earnings, purportedly in an effort to rid the site of bots and scammers. All my meager earnings wiped out. Back to zero.
That's no way to run a PTC. Members should never have to pay the penalty for a poorly-run PTC. Stay away from ClixTen!
TIP: HOW TO PASS CAPTCHAS QUICK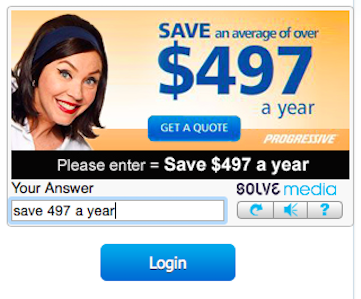 Captchas are a test to make sure there's a real human logging in. You know, you type your username and password, and then have to type a couple words or random characters that are displayed in a graphic image. What I've found is that these captchas do not require puctuation or capitalization. They even work without typing the spaces between words.
So even though they may display capital letters or exclamation marks, or commas, or other punctuation in a phrase, you can ignore them. Just type all lowercase and pass quicker.
TIP: HOW TO KEEP YOUR CASHOUT/WITHDRAWAL FEES
Have you considered how much those "withdrawal fees" cost over time? I've done some simple calculations and determined that on average the Paid-To-Clicks take 12% in fees on every cashout. So I've paid about $437 in withdrawal fees to take possession of my $3,642 in cashouts, here on Day 1140. I have not spent all my earnings on advertising. A total of $1,804 has been spent on advertising.
My latest advertising strategy: Let account balances accumulate sufficiently to fund advertising at ClixSense, ScarletClicks, GrandBux, ClickyClix, and FamilyClix. This will save 12% in cash withdrawal fees while boosting my email signups. Think about using your earnings directly for advertising at these sites and avoid the costly cashout fees.
It costs nothing to move money from your earnings account to your advertising account.
So for example if I save up $100 in earnings and use it to directly fund my advertising accounts (rather than cashout, pay a withdrawal fee, and then turn around and move that money back in from my payment processor), I will essentially get an additional $12 to spend on my advertising.
RECOMMENDED: DO YOU SWEEVE?
Sweeva is a Traffic Exchange, not a PTC, but I mention it here because Sweeva is a great deal if you are upgraded. Try to get a Lifetime Membership at a good price (less than $100) and hang onto it because it only gets more valuable. What do I mean by that?
Upgrade in Sweeva and you get 100 more credits every month. More every month. I've been a member there long enough that I've got a huge arsenal of credits there, and I use them to produce a big bang when I launch a new campaign. And after depleting my credit balance, it just starts building up again. The longer you're upgraded, the more credits you get each month.
ALSO: Sweeva is blog-friendly. If you write a good blog post, people will stop and read it. This produces a higher conversion rate than most other Traffic Exchanges. Sweeva is a place that encourages members to get to know each other, and blog posts with calls to action are the best way to do that.
And of course, whenever you do a new blog post, you also should send a brief tempting email to your subscriber list about it. That's always been my method with "The Amazing Tale," and it's brought me about 1,200 subscribers since I started. Thanks for following!
BUSINESS PIVOT
If you've been paying attention, you know that I launched a brand new affiliate opportunity just a few months ago. Oakley Studio Websites is the hosting business that I've been operating since the dawn of the World Wide Web over 20 years ago. That's when Oakley Studio began as a boutique home-based business doing custom website design and site hosting on our own secure servers for a select group of long-term clients.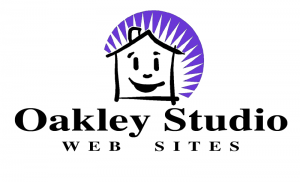 These days most of my clients are using WordPress — the most affordable way to build your own business website. I am continuing to offer a very reliable top-tier hosting service,  but have pivoted from website design to WordPress coaching.
In December 2016 I completed a major renovation of my own WordPress business website, adding an affiliate program that makes it possible for all my clients to earn passive income when they refer others to Oakley Studio.
Few businesses today can survive and thrive without a website. If you do not yet have a website for your business, please consider starting yours today at Oakley Studio Websites. Use our Signup Form and begin working in your WordPress Dashboard in less than 10 minutes!
Monthly website hosting starts at just $10 per month. If you are a WordPress "newbie" I can teach you — in six online sessions — all the essentials you need, and you'll be building out your website as you go. Usually within just a few weeks your site is ready to launch and you have everything in place to begin building an email list and telling your story.
About our affiliate program: Oakley Studio Websites pays $3.50 every month for every new client you refer. It takes just 3 referrals to completely cover your own website hosting costs, including domain name renewals, professional email service, backups, security and performance checks, daily WP/Theme/Plugin updates, and a webmaster you can call and email for free whenever you run into a puzzle with your site or need to add some new functionality.
We operate very secure servers, and we check and apply all available WordPress updates daily because if you don't log in and do these updates yourself, your site is at much greater risk of getting hacked. That's no fun. So we check and apply these updates for you — every single day.
We also want to make it really easy for all our clients to secure their sites for the benefit of their users. Any Oakley Studio website can acquire an SSL secure digital certificate for just $2 per month. That's an annual cost of only $24! We encourage Secure Socket Layer (SSL) because we believe that ultimately all the best websites will use SSL encryption to reassure their users, improve their ranking, and distinguish themselves from the vast Unencrypted Web that exists today. If you want people to subscribe to your email list, or buy products from your site, you should use SSL encrypted connections to protect all submitted personal data.
That's my primary business — Oakley Studio Websites — and I would love to be your friendly webmaster and provide reliable secure hosting for all your websites, starting today.