By Day 17 of "The Amazing Tale" it appears NerdBux has "gone hockey stick," far surpassing the other three Pay-To-Clicks in daily income.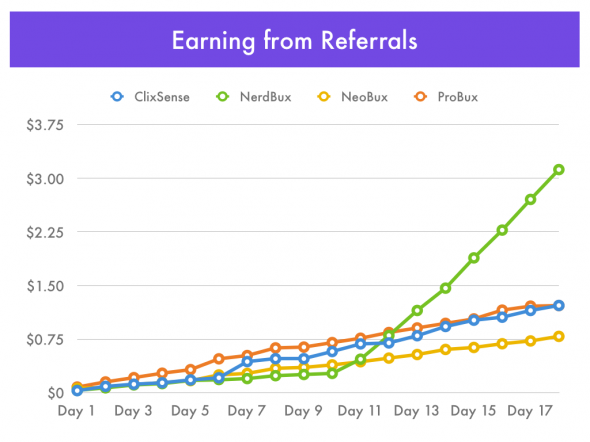 What caused this rapid take-off? Two words: Renting Referrals.
In the previous episode ("Upgrades and Referrals") we saw the effects of upgrading in ClixSense, and renting referrals in NerdBux. Cost to rent 100 referrals at NerdBux was $20. Over the past week since purchase my income in NerdBux has been averaging about 35¢ per day. That's up from the slightly less than 3¢ per day I was earning on my own.
So by renting referrals, I am earning about 10 times as much as I could on my own.
IS IT PROFITABLE?
After 7 days of renting, I ask myself… "Is it profitable?"
I paid $20 to rent 100 referrals for 30 days. After 30 days those referrals go away unless I continue to rent them. So the profitability question is important. Can I earn at least $20 in 30 days? Let's do the simple calculation:
INCOME: 35¢ * 30 days = $10.50
Uh oh. In spite of that happy-looking chart up there, if I don't do something, I will be losing money! I need to at least double the productivity of my referrals, or reduce the rental cost, or both.
Turns out I can do both quite easily.
AUTO-RENEWING IS CHEAPER
There is a more affordable way to rent referrals — and keep the best ones. It's called AutoRenew, and I enabled it immediately upon renting this  batch of 100 referrals.
AutoRenew automatically renews any referral for another 30 days when they click an ad. This is the way to automatically keep your good clickers and identify the deadbeats. NerdBux also permits you to replace any non-clicking referrals at no cost after 14 days. (You can also recycle referrals any time for a small fee.) By using these features, you can incrementally improve the productivity of your referral pool.
My auto-renewal cost for the first week was running about 52¢ per day.
EXPENSE: 52¢ * 30 days = $15.60
So the ongoing cost to rent 100 referrals (and keep the best ones) is $15.60 every 30 days. I've cut $4.40 in expenses. But that still doesn't get me to profitability.
DOUBLE THE INCOME
Let's take another look at upgrading. I can double the income from my referrals just by upgrading in NerdBux. The upgrade cost is $50 per year. If I do that, I'd be earning 70¢ per day instead of 35¢ per day.
BETTER INCOME: 70¢ * 30 days = $21.00
A monthly income of $21.00 and a monthly expense of $15.60 nets me a monthly profit of $4.40 in NerdBux. I can likely keep improving my profit by recycling my deadbeat referrals who aren't clicking, replacing them with new ones, and keeping the ones who continue to do the most clicking.
What do you think — Should I go for the $50 annual upgrade? Tell me what you'd do, and what you think I should do. And in another week I'll let you know what I decided to do.