This is one chapter of the "Amazing Tale"  I would prefer not to write.
However in the interests of transparency I'll go ahead and relate my experience with EveBux in hopes that we can all benefit from the telling.
Let's start with the bad news.
EVEBUX IS GONE.
It was just one month ago, back on Day 45, that I joined EveBux, a brand new PTC that I thought was simply beautiful design. It was easy to use, not a lot of ads yet, quick to click through, and it offered referral rentals, which has been my favored method to boost daily earnings.
Five days after joining, I funded my account with $25 and rented 100 referrals. I requested my first cashout — $9.54 — just 16 days later, on Day 66. That money was slow in coming, but I didn't give it much thought.
I funded my account again ($20) on Day 68, and rented another 100 referrals.
Day 72 was the last day I was able to find the site. It has been "site not found" every day for close to a week now, and I'm pretty sure it's not coming back.
By Day 72 my rented referrals had earned another $3.91. I had $5 remaining in my advertising account. And I had not yet received my cashout. I sent a message to the support email address for EveBux, asking about my cashout and the whereabouts of the site. No reply.
THAT SINKING FEELING
You know that sinking feeling when you begin to suspect you've been had? In my mind I am adding up the money I put into EveBux, a total of $50 lost, not counting the $13.45 I had earned there and was not paid.
One day the site is working fine, and the next day — poof — it's gone. What happened?
We will likely never know what happened to EveBux. Was it a simple business failure? (Even some news from the owners explaining the situation would have gone a long way towards settling the matter.) Or was it a denial-of-service attack? (NerdBux and ClixSense have weathered such attacks in recent weeks without much disturbance in their ongoing business.) Or was it unscrupulous criminals out to steal some easy cash? And were there tell-tale clues that EveBux was in trouble?
In retrospect some suspicions come to mind. One thing I noticed was that my payments to fund my account and to advertise at EveBux all went to different email addresses — PayPal accounts with personal names instead of business names. Should that have raised a red flag?
EveBux was so new that it had not yet been adequately reviewed or discussed over at research site PTC Investigations. Perhaps in the future I should avoid brand new sites until they have a track record of payouts. What do you think?
I've lost money before in promising programs that did not pan out. I've also made money in programs that later went bye-bye. And in my experience, it's very difficult to see a failure coming, or to predict where the big successes will come from.
ON THE BRIGHER SIDE
I have not put all my eggs in one basket, and the success I am anticipating in PTCs will come from a portfolio of sites, where some fail, some succeed, and some go on to greatness.
So this is the last time EveBux will appear on our Daily Earnings Chart. I will also be removing Hitzza from the chart because the prospects for earning serious money there are growing slimmer every day. I wrote to owner Barry Langdon about the dwindling ads to click on there. He replied, saying he really doesn't know what to do. Hitzza is not gone, but it looks like it is dying. (If you've ever thought it would be fun to operate your own PTC, I expect Barry would be open to any reasonable offers.)
The only money I've spent at Hitzza was on advertising, and it was money well-spent; I got a good share of signups for my ad dollars. Hitzza has been a good place to advertise. I wish Barry well. I'll continue to check in there every now and then. If things change I'll be happy to return the Hitzza line to our chart.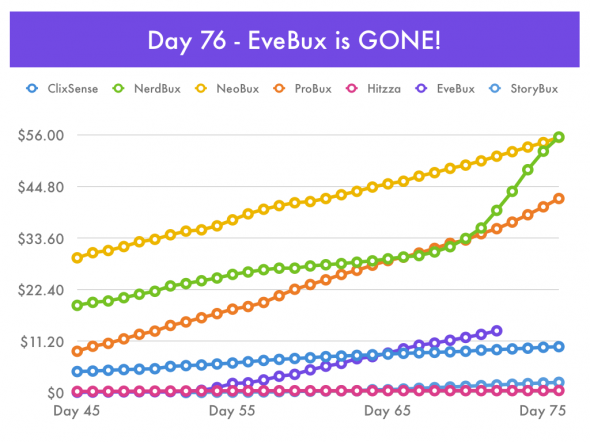 On the brighter side, NerdBux has really taken off and is set to pass NeoBux in total earnings. Last week I talked about the Huge News from NerdBux. I hope their decision to pay for every click becomes a wakeup call to the entire PTC industry. If other PTCs follow what NerdBux has done, it will set the Pay-To-Click space on fire!  
Current earnings are looking better than ever: $6.80 per day. Here are all our numbers for today:
Days To Profit

at $6.80 per day

76 days