It's Day 30 in "The Amazing Tale of 4 PTCs" so let's take some time to review where we've been and see what's ahead.
Just in case you missed some parts of the story, here's a handy Table of Contents:
ClixSense doesn't rent referrals (at least not yet) and so it serves as the steady baseline to compare with NerdBux, NeoBux, and ProBux, all of which do rent referrals. On your own, it should be obvious by now you won't make much money if you are only clicking ads.
Earning comes from referrals.
Direct referrals will earn for you with no additional cost but will take time to accumulate. If you are willing to shell out some cash up front — as I have — you can rent more referrals and jump-start your earnings.
Below is my earnings chart at the end of 30 days. Notice how income increased when I rented referrals at NerdBux, and later in the month at NeoBux. By Day 30, earnings from NeoBux had caught up with NerdBux, and will quickly move into first place over the next several days. NeoBux is a great place to be, with as many referrals as you can get to maximize your earnings from all those other enthusiastic NeoBux members who are also earning from their referrals.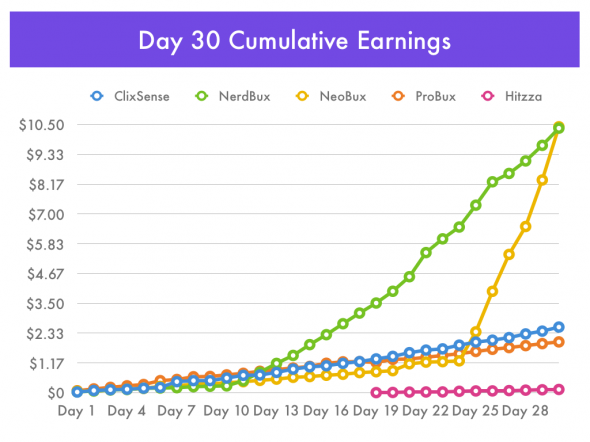 Here is a chart of combined earnings over the first 30 days. Things started out slow but picked up day by day.
COMPARISONS AND PROJECTIONS
A bar chart helps to compare how each Pay-To-Click site has contributed to earnings over the first 30 days.
NerdBux and NeoBux are the big winners. (Click the chart to see actual earnings numbers.)
Average earnings over just the past 5 days is now $2.41 per day and so we can now project that by Day 60 we will have earned $25.34 + ($2.41 * 30) = $97.64
Not bad at all for a little online business that's still just getting started! And I think there are some things we can do in the next 30 days to improve that number.
Looking ahead, I anticipate more renting of referrals and possibly upgrading at ProBux, as I have done at NerdBux and NeoBux. I have recently tried renting additional referrals at NeoBux, but so far they simply have not been available. I'll get more — and increase my daily income — whenever the opportunity arises.
Hittza does not offer referral rentals, so we can anticipate that earnings there will continue to be a very gradual slope and rely on my getting direct referrals over time to increase earnings there. In the meantime my main interest in Hittza is to advertise to that audience and build my list.
SERIOUS MONEY
You might say the only serious money in our story so far is what I have been spending on upgrades, rentals, and advertising. Here is my cost breakdown and the net economic picture.
$17 ClixSense upgrade.
$100 NerdBux fund account for rentals and annual upgrade.
$8 Advertising at Hittza.
$20 NerdBux more rentals.
$30 NeoBux fund account for rentals.
$90 NeoBux annual upgrade.
Total spending: $265
Net expenditure: $239.66
At current earnings of $2.41 per day, it will take about 100 days to get to profitability. So far I have not withdrawn any money from any of these programs.
I'm happy with the earnings picture, and expect in the days to come it will continue to improve nicely. What do you think? Is this the way you would play the Pay-To-Clicks?
Or do you think I'm crazy?